Inca Trail Elevation Gain
What are the elevation gains of the Inca Trail hike to Machu Picchu? In this article, we are going to explain in detail the day-by-day elevation gain of the classic 4-day Inca Trail, this way you will understand how is the route of this famous trek.
The Classic Inca Trail Route is a moderate 26-mile hike. The hike typically takes 4 days to complete while reaching a maximum elevation of 13,828 feet (4,215 meters). The trek is challenging, but with a good fitness routine prior to the hike, most hikers complete the trek.
in these hikes you will find different elevations from basic to moderate., these are the following tours Classic Inca Trail 4 days or the short Inca Trail 2 days or Inca Jungle 4 Days.
What is the elevation of the Inca Trail?
As you can see on the map, the elevation of the Inca Trail has many ups and downs. The easiest day is the first day, as it is relatively flat. The elevation of the Inca Trail varies, with the highest point rising to 13,828 feet (4200 m) above sea level. The second day is the hardest, starting at 10,000 feet (3,000 m) and ascending to Dead Woman's Pass.
The third and fourth day of the Inca Trail altitude change is a relative descent to Machu Picchu. Machu Picchu is at an altitude of 2,430 meters.
Maximum altitude of the Inca Trail – 13,776 feet.
Inca Trail Elevation Map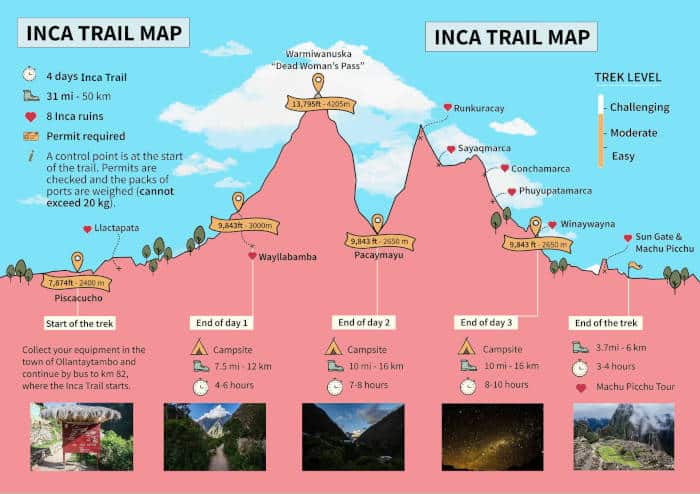 Inca Trail Distances & Altitude
The distances involved in hiking the Inca Trail to Machu Pichu are not that great. The entire 4-day trail hike is only 25 miles (40 km). However, the altitude, which at it's highest point is 13,776 ft or 4200m, can cause problems even for the strongest hikers. For this reason, all Adventure Life trips involving this hike require spending at least a few days at high altitudes in order to acclimatize before embarking on the Inca Trail hike.
INCA TRAIL 4 DAYS ITINERARY WITH ELEVATION GAIN DAY BY DAY
The Inca Trail Elevation By Day
Day 1: Cusco – Piskacucho – Km 82 – Wayllabamba
We will leave Cusco at 06:00 am to start the Inca Trail to Machu Picchu, we drive for about an hour and a half to Ollantaytambo where we will stop briefly to buy last-minute gear, and personal needing and eat breakfast which is included, then we keep driving to Piskacuchu (Km 82) Inca Trail check Point. once passing the checkpoint we start our trek of the classic Inca Trail to Wayllabamba(the first camping site). along the way, we are going to have lunch at Miskay which is a Quechuan village, and have a siesta before walking to our first Archaeological site of Patallacta or Llactapata (the biggest Inca Site) after an explanation of your guide about Llactapata, you will keep walking for 2 more hours to get Wayllabamba (first Inca Trail Camping spot 3,010 m/9,8750 ft.).
Distance: 12 km/6.835 miles.
Time: 5 hours on average
Elevation day: 430 m/1,410 ft.
Start: Km 82(trailhead of Inca trail)2,680 m/9612ft.
End: Wayllabamba Campsite 3,010 m/9,8750 ft.
Day 2: Wayllabamba – Warmiwañusca – Pacaymayo
We'll start our Inca Trail day, early in the morning, just to take advantage of the shade of the mountains. It is much better to hike up to the first Inca Trail passes (Warmihuañusca which means dead woman pass 4200 m.a.s.l) the highest point of the Inca Trail. Here, we can literally see the various Inca Trail ecological zones and microclimates, which make up the area, mapped out in front of us. We will cross the Warmiwañusca pass once we are on the top. we are going to see many snow-capped Mountains around. Later on, we take our group picture, we keep going down to Pacaymayo (second Inca Trail Camping spot 3600 m.a.s.l) where we have our lunch and then we will have a free afternoon to explore by ourselves.
Distance: 11 km/6.83 miles.
Time: 7 hours on average.
Elevation gain day: 1,180 m/3,871 ft.
Start: Wayllabamba Campsite 3,010 m/9,8750 ft.
End: Pacasmayo Campsite 3,600 m/11,700 ft.
Day 3: Pacaymayo – Chaquicocha – Wiñaywayna
Inca Trail begins with a nutritious breakfast and then a 45-minute hike up to Runcurakay Pass (second highest pass on the Trail 3,850 m.a.s.l). Along the way, we will visit the Runcuracay archeological site. During the day's hike, we will also visit the Sayacmarca and Phuyupatamarca Quechuan archeological sites of the Inca Trail. After lunch, we will head to the Wiñaywayna site, where we will spend our last night on the Inca Trail, and then we will have a celebratory dinner to then say goodbye to our Inca Trail porters.
Distance: 16 km/9.94 miles.
Time: 9 hours on average
Elevation day: 453 m/1,486 ft.
Start: Pacasmayo Campsite 3,600 m/11,700 ft.
End: Wiñaywayna campsite 2,650 m/8,530 ft.
Day 4: Wiñaywayna – Machupicchu – Cusco
After an early breakfast, we begin the final leg of the Inca Trail to the lost city of Machu Picchu. First, we will hike to Inti Punku ("Sun Gate"), the Gate of the Inca Trail where we will take in an inspiring and panoramic view of the Machu Picchu citadel. After a short hike down to Machu Picchu, we will register and then enjoy a 2-hour guided tour of the sanctuary city. After the tour of Machupicchu, we will take the bus down or walk part of the Short Inca Trail to Aguas Calientes where we will enjoy lunch and free time to enjoy the town before returning to Ollantaytambo by train and then bus back to Cusco.
Distance: 6 km/3.72 miles.
Time: 3 hours on average
Elevation day: 90 m/295 ft.
Start: Wiñaywayna campsite 2,650 m/8,530 ft.
End: Machu Picchu 2,450 m/8,038 ft.
Details of elevation change on Inca trail
Inca trail elevation gain: 2153 m/7063ft.
Top Elevation: 13,828 feet (4200 m)
Inca trail Distance: 25 miles (40 km)
Dealing With Altitude Sickness On The Inca Trail
The biggest problem that comes with increasing elevations is altitude sickness.
On the highest points of the Inca Trail, some hikers experience unpleasant symptoms. Common symptoms of altitude sickness include headaches, nausea, and fatigue. At the very least, you will find it difficult to breathe as the air becomes thinner and higher up.
Altitude sickness on the Inca Trail is rarely severe. Even so, you should ascend slowly and drink lots of water. Let your guide know if you are struggling and especially if your symptoms get worse. Guides are required to carry oxygen tanks in case of emergencies.
Learn more about Inca Trail here