Inca Trail to Machu Picchu
The Classic Inca Trail is about more than just getting to Machu Picchu. As you pass through the mountain, the trail takes you through a breathtaking range of landscapes that includes snow-capped mountain peaks, lush forest, subtropical jungle, and arid high altitude zones. In addition to all of that, you also get a splendid mix of Inca paving stones, tunnels, and many Incan archeological sites that is only reachable via the Inca Trail. If you are remotely considering hiking the Inca Trail. we highly encourage you to do so because you will be impressed both at the views and what your body can do.
Classic Inca Trail to Machu Picchu The is an unforgettable experience of a lifetime. Journey through majestic snow-capped mountains, dense forests and lush jungles, and experience the breathtaking views of the ancient Incan ruins. Immerse yourself in the beauty of the Peruvian landscape as you make your way along the famous trail.
The trek covers a total distance of 43km (26.719 miles) and an altitude from 2720 meters (8.900 feet) to 4200 meters (14.000 feet).
Inca Trail News
On February 22st, 2023, The Inca Trail will be open on March 1, 2023, as usual, after maintenance in February.
On January 21st, 2023, Inca Trail Closed indefinitely due to Civil Unrest.
On December 21st, 2022 Inca Trail is opened for travelers again after the strike. Also, the train service to and from Cusco start running again. People who are hiking the Inca Trail 4 days, Inca trail 7 days and inca Trail 2 days.
IS THE INCA TRAIL OPENED?
Yes, Inca trail 4 days is Opened on July 15th, 2021.
WHAT IS INCA TRAIL?
The great Inca Trail(Qhapaq Ñan) refers to the network of trails of more than 60,000 km(37282 miles) that integrated the Inca Civilization of Tahuantinsuyo (" four regions" in Quechua). It covered a big part of South America: from Colombia, the west of Brazil, Ecuador, Peru, and Bolivia, to the center of Chile and the north of Argentina. According to the Peruvian historian, José Antonio del Busto, who explains that the Inca "King" Huayna Capac most expanded the network of trails to quickly mobilize his army.
The Inca Trail varied in quality and size, they could be between 6 to 8 meters wide on the coast, while in the mountains the paving was only one meter wide and Some stretches of the trail are extremely steep. The Royal Inca Trail to Machu Picchu "The Famous Inca Trail" still existed and was re-discovered by professor Hiram Bingham when he did his clearing work between 1913 and 1915.
WHY INCA TRAIL TO MACHU PICCHU IS SO POPULAR?
The Inca Trail(Qhapac Ñan) to Machu Picchu was part of the transportation network of the Inca Civilization. Nevertheless, the Inca Trail is important because it was used by the Inca people for pilgrimage purposes back in the 15th century, so it has strong religious and ceremonial purposes. In recent years, the Inca Trail became popular among trekkers as a way to visit Machu Picchu.
The Inca trail is the only one where you hike into the ruins of Machu Picchu through the Sun Gate while all other trekkers end in the town of Aguas Caliente which forces you to take the bus up with all the other travelers.
CAN I HIKE THE INCA TRAIL WITHOUT A GUIDE?
Since June 2002 hiking Inca Trail without a guide has been forbidden to protect the trail from negative impact. At present, there are only 500 permits a day including tourists and cooks, porters and guides (about 200 permits for tourists and the rest for supporting staff). If you do not get those permits, you are not allowed on the Inca Trail 4 day trek to Machu Picchu and Short Inca trail 2 days.
To help conserve the Inca Trail, the Peruvian government mandates that all trekkers go with a licensed travel agency. They must meet certain basic requirements proving that they have professional guides and good camping gear, radio communications, and emergency first aid including oxygen. Their license is renewed every year and the list of authorized guides and travel agencies you can see on the official website of Peru www.machupicchu.gob.pe
WEATHER ON INCA TRAIL
The weather on the classic Inca trail changes during the whole of the year from sunny and dry to wet and cold. The conditions that you will experience depend generally on the time of year that you will hike the Inca Trail. From April to October is the dry season- Peru's winter – temperatures drop close to freezing at night, but days can still be gloriously sunny, and you won't have as much cloud and fog interfering with your view of some of the most amazing landscapes on earth. But you should be always prepared for all possibilities because the weather in the Peruvian mountains is unpredictable at any time of the year nowadays.
In the dry season, you can expect day temperatures between 20 – 25ºC (68 – 77ºF) and night temperatures between -1 – 7ºC (30 – 44ºF).
The rainy season starts in December and continues until March. During these months you can expect rain on 2 out of the 4 days on the Inca Trail. Although rain will be heavy in this period, it rarely lasts for more than a few hours and then the sun comes out. The overall temperature rises during the rainy season, but the rain accompanied by potential winds can make the temperature drop quite significantly.
In the rainy season, during the day the average temperature range is 17 – 22ºC (62 – 72ºF), and night temperature is between 4 – 7ºC (39 – 44ºF).
WHEN IS THE BEST TIME OF YEAR TO HIKE THE INCA TRAIL?
Generally, the most excellent season to hike the classic Inca Trail is from April to October when you can expect clear blue skies, almost no rain, and tolerable temperatures during the day, but there is a sudden drop in temperatures during the night.
November to March is the rainy season, but you can still have a pretty good chance to have nice weather in November, December, and March. The rain can be annoying, it also makes for lovely green scenery in the mountains. Remember to adjust your packing list accordingly if you choose to travel to Machu Picchu during these months. You'll want fewer warm layers and more rain protection!. The heaviest rains are in February when the Inca Trail is officially closed.
DO I NEED TO BOOK AN INCA TRAIL TOUR IN ADVANCE?
Ticket sales for the Inca trail begin every October for the upcoming year, as soon as the permits are opened for purchase. They are sold out at the end of the day. So it is very important to organize your Inca trail at least half a year in advance with a licensed, certified travel operator like AB EXPEDITIONS so they can buy your permit as soon as the permits are available for purchase. We highly recommend booking ahead even further if you are planning on going during peak season (May to August).
TRAINING FOR THE INCA TRAIL
Given the incline of the trail and the number of stairs, you must climb. Cardio should be a significant part of your training program like running up the stairs or up a hill or stair climbing exercises for training for the Inca Trail.
Hiking uphill on the second day of Inca Trail means you need to be comfortable with a continually elevated heart rate as well as being out of breath. You should do stair climbing exercises for 35 minutes 3-4 times a week for a few months and it helps on the classic Inca Trail!
ARE THERE AGE RESTRICTIONS ON INCA TRAIL TO MACHU PICCHU?
There is no government restriction on the age limit on the Inca Trail, but if you are over 60 years old or have ill health, we highly recommend you have a medical check-up before organizing your trip to the Inca Trail. This tour is not recommended for children under the age of 8 years old, because they may have trouble walking, but if the child enjoys hiking at high altitudes, they can do it. All children under 18 years old must also be accompanied by an adult.
INCA TRAIL FITNESS
You don't need to be an intrepid hiker to do the Inca Trail 4 day trek, but you have to be in reasonable shape. To get an idea, we recommend you do a hike before you book the trail. The trail should be up and down and the roundtrip should be around 10 km (6 miles). If you are miserable doing that, we advise taking the train instead.
INCA TRAIL HIKE DIFFICULTY
The Inca Trail trek is rated moderate to difficult. It is a common misconception that because many people hike the Inca Trail then it would be easy… it isn't. The trail is 43km (26 miles) long and involves great physical exertion to accomplish. On day two, you climb nearly 1200m (about 4000 ft) in the morning. Combine this with the high altitude exposure (low levels of oxygen in your lungs and blood) and extreme weather (you could easily get sunburnt during the day and temperatures could drop to below 0°C at night), and the hike can turn into a hard experience. However, all these difficulties can make the final arrival at Machu Picchu more satisfying.
HOW ABOUT THE CAMPSITE ON INCA TRAIL TO MACHU PICCHU?
On the Inca Trail campsites are designed by the government, so it means that more groups sleep in one place and bathroom facilities are way insufficient for the number of hikers (that's why we recommend asking your company if they include a private toilet.
The longer you wait to book your trek, the worse your campsite you are going to be. Since the travel agency needs the permits before booking, those selling last-minute permits to the Inca trail tend to camp at sub-optimal campsites for trail navigation and arrival to Machu Picchu.
HOW MUCH MONEY SHOULD I BRING ON THE INCA TRAIL?
Even though you paid for your tour in full, you will still need some cash when hiking the Inca Trail. You need money to tip to your porters, cook, and guides. Porters prefer soles over dollars. Also, there are a couple of vendors along the trail until the morning of the second day where you can buy a bottle of water, Coca Cola, snacks, beer, and also, after Machu Picchu, most companies don't include the last lunch in Aguas Calientes
The exact amount you'll need to bring will rely upon the size of your group and thus the corresponding size of the staff (per government regulations). Your tour guide should let you know how many people are with you during the pre-trek briefing which one day before your trip, and you can calculate from there.
There are only 3 places to withdraw the money hiking Inca Trail. One of them is Cusco, the second one in ollantaytambo, and the other is Aguas Calientes, where the adventure ends in case you don't have enough cash or when you desire to buy some souvenirs.
TIPPING ON THE INCA TRAIL TO MACHU PICCHU
You will have guides, porters, and chefs working fabulously hard to provide you with a safe and amazing experience. And believe us, once you experience the roughest parts of the hike and think about how they're doing it carrying 45 pounds on their back, you'll understand why thanking them with a tip becomes almost an emotional experience. We recommend tipping each porter 80 Soles, for the chef and guide a bit more. Of course, they get more sometimes and sometimes less. Tipping is technically optional in most circumstances
DO I NEED TRAVEL INSURANCE?
Hiking the Inca Trail to Machu Picchu is generally a safe activity. But if anything happens to you on the trail you could end up with super expensive medical bills. Put your mind at ease and get Inca trail travel insurance. The main concern for your Inca Trail travel insurance is that it should cover you for hiking over 4,000 meters. Most, if not all standard travel insurance policies, will not cover you up to this altitude.
DO I NEED HIKING POLES?
Hiking poles can reduce the impact of those downhill steps on your knees so you aren't limping into Machu Picchu. They also distribute your weight when you're hiking uphill, which makes it easier on your leg muscles. if you get your technique right, it's nearly like you have another pair of legs to support you and propel you up the hill. In case you have knee problems. You have to have a pair of poles.
WHAT ABOUT MEDICATION?
Your tour guides always carry a first-aid kit including oxygen with them at all times, but they are not allowed to prescribe you. Being said that, it can't hurt to carry a basic first-aid kit with medications that you know on your person during your Inca Trail trek!
Now for the fun stuff, medications. Diamox(acetazolamide ), Cipro, Ibuprofen, and Immodium are crucial. Diamox will help with altitude sickness, Ibuprofen will help with any headaches. Cipro and Immodium will save you in case you get food poisoning.
THINGS YOU DON'T NEED TO PACK & THINGS YOU CAN RENT OR BRING YOUR OWN
When booking the Inca Trail, the travel agency should let you know what equipment is included and what you can bring or rent from them.
Sleeping Bag.
Linen or Cocoon.
Inflatable Hiking Pillow.
Walking Poles.
WHERE TO LEAVE LUGGAGE
One of the options is to keep your extra belongings at the storage of the agency you are hiking with. The other, more comfortable option is to leave it in your hotel, where you will stay before and after the hike, as virtually all the accommodations provide this service.
WHAT'S INCA TRAIL BATHROOMS AND SHOWER SITUATION?
Inca Trail toilet facilities are not the most hygienic. On day one the bathrooms are usually fairly decent and clean. However, as you venture further along the trail the quality of restroom conditions starts to deteriorate. Practice your squats before you head to the Inca Trail and you will be just fine because you will be using floor toilets in which you squat over. There is often no light in the restroom, make sure you bring a headlamp for those night-time toilet visits.
We recommend you hire a tour company that provides a portable toilet. These are known as 'toilet tents'. However, you will only have a portable toilet in the campsites and the lunch stops. You will still use a squat toilet along the way.
The cold shower is only available at Winay Wayna campsite (end of day 3). Only Travellers who sleep in Chaquicocha campsite have a chance to take a shower because they arrive at Wiñay Wayna at 01:00 pm. However, travelers who sleep in Pacay Mayo campsite, arrive at the campsite at 06:00 pm so there is no time to take a shower. Ask your travel company where you will sleep. Our advice is, bring wet wipes, lots and lots of wet wipes! A nice wipe down before bed is greatly advised.
IS THERE DRINKING WATER ON THE INCA TRAIL TO MACHU PICCHU?
Staying hydrated is very important, principally when hiking at altitude. All the travel agencies will provide you with boiled water after cooling it down at every meal when you can refill your bottles. The only thing you need to have with you is Water Bottle or Camel Bag. Bottled water is available for purchase at some locations along the trail on the first and second day, and then not until Machu Picchu
INCA TRAIL ALTITUDE SICKNESS
It's common for visitors to experience altitude sickness on the second day of the Inca trail for 4 days as the incline goes from 2400m(7874 ft) to 4200m(13.779 ft). People are affected by altitude differently, and your level of fitness will not necessarily make a difference. Certain people have almost no problems at all, while others struggle. Show more Inca trail elevation gain.
We recommend you gradually build up to altitude and spend at least 3 days in Cusco before hiking your 4 day Inca Trail so that your body will gradually get used to the altitude. It is important to take it easy at first, rest as needed, drink lots of water, eat lightly (more carb than protein), and avoid alcohol.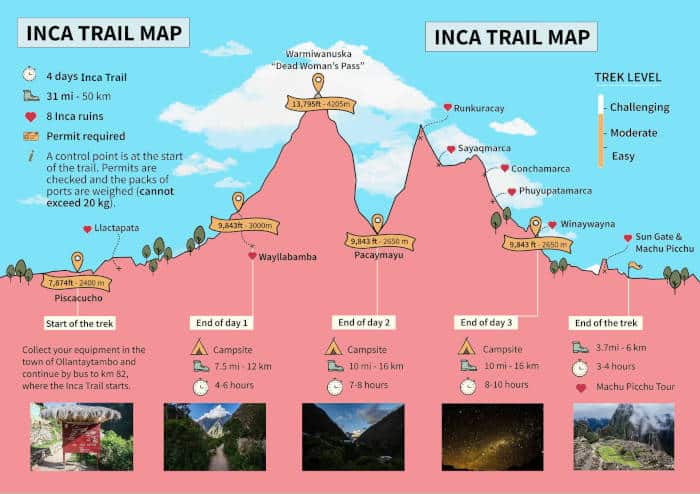 Hiking the Inca Trail to Machu Picchu in 2023
If you are looking to do more hiking once you reach Machu Picchu, there are two popular short (but stunningly beautiful) hike options: Huayna Picchu and Cerro Machu Picchu (Machu Picchu Mountain).
WHO TO BOOK THE INCA TRAIL WITH?
Choosing a Inca Trail trekking company could be one of the most difficult parts of organizing for your Inca Trail adventure because there are so many to pick from!. INCA TRAIL NET provides superior and unique Inca trail tours in Peru. One of our main goals is to help the local villages. We achieve this goal by hiring local staff (including porters, cooks, guides, suppliers). We provide good quality equipment, uniforms, a fair and legal salary, and insurance for all our porters. In order to give you good service. we take small groups, a mínimum 2 and a máximum 8 people on the group on the Inca Trail.
WHAT TO PACK FOR INCA TRAIL HIKE TO MACHU PICCHU
Layers and thermals are a must for the Inca Trail. During the day it could be hot as you are much closer to the sun due to the elevation. At night it gets really cold, so you need warm clothes for camping. If you are on a long trip and don't want to carry around a lot of clothes then you could buy warm clothes in Cusco instead. The town is full of handcrafted sheep and alpaca sweaters, hats, etc.
Here is a list of clothes and equipment for the Inca Trail to make sure you are going to have an awesome experience:
3-4 quick-dry t-shirts or Sleeveless T-shirts.
Shorts.
Leggings.
1 pair of (convertible) hiking pants.
Fleece Jacket.
Windproof and Waterproof Jacket.
Rain Poncho.
4 pairs of hiking socks
Sweat-wicking underwear.
Sports Bra.
Headband or Sun Hat.
Down Jacket.
Gloves, preferably waterproof.
Warm Hat.
Sunglasses,
Hiking Boots.
Flip Flops, Sandals, or Sneakers.
Packing Cubes.
Headtorch.
Dry Bag, when it rains, we always keep our electronics and valuables in a dry bag to keep them safe.
A day pack.
TOILETRIES
When we talk about toiletries. We recommend you pack as little as possible. We believe that you are going to survive only with basics for 4 days Inca Trail.
Toothbrush and Toothpaste
Sunscreen.
Mosquito Repellent.
Deodorant.
Wet Wipes
Lip Balm with Sunscreen
Travel Towel
Blister Plasters.
Pills.
Hand Sanitizer
Toilet Paper
INCA TRAIL MARATHON VILCABAMBA TO MACHUPICCHU. Run in the heart of The Andes. June 16th 2023. Temp 5ºC to 25ºC.
Inca trail marathon is a FULL MARATHON, HALF MARATHON and 10k distance event organized by Geo-Planet Eventos with Makalu Adventure Travel & Tours and takes place in the spectacular setting of the Vilcabamba valley and Machu Picchu
It will be held on June 16, 2023, with 1300m of positive elevation gain in marathon, 950m in half marathon and 320m approx. in the 10k. and it is a variant of the Inca trail less known and more spectacular and safe.